Hiking in Strong Winds – Top Tips for Staying Safe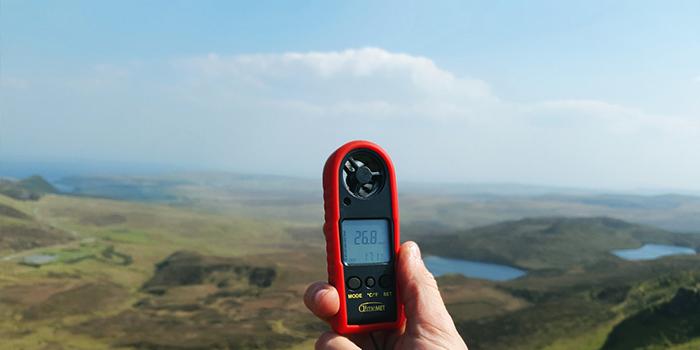 4 minute read
Hiking is a popular hobby amongst weather watchers thanks to the opportunity for panoramic views, and is a great way to keep active, spend time outdoors and get closer to nature. Whether you're hiking in the Lake District or The Quiraing in the Isle of Skye, the weather conditions in the hills or mountains can change suddenly and unexpectedly, so it's important to be able to monitor the weather on the go with a handheld anemometer such as our ClimeMET CM2030.
It's always worthwhile checking the local weather forecasts in advance to pick the best possible weather for your hike, but remember, conditions on the mountain can vary compared to base camp and can change quickly. Hiking in strong winds can be especially dangerous for a number of reasons:
You risk being thrown off balance when hiking in exposed areas.
It more difficult to walk in strong winds which can tire even the most experienced hiker.
High winds can result in wind chill, meaning it may feel colder than it actually is.
Fortunately, ClimeMET's Handheld Wind Meter measures wind speed, temperature and wind chill to give you the data you need at your fingertips.
We've put together a kit list of five items that can help you prepare for hiking in strong winds and sudden changes in the weather to make sure you keep safe while enjoying the great outdoors.
The Quiraing, Isle of Skye - Nick Rowland.
All Weather Hiking Kit List
1) Layers
One way to prepare for the changing weather in the mountains is to wear light layers and pack a warm hat, gloves and a waterproof jacket. You'll then be able to take off layers when it's warm and put more on when it's cool, without carrying too much weight. It is important to keep your temperature regulated throughout your hike; you don't want to be too hot or too cold as you'll use more energy than you need.
2) Physical map in protective cover attached to bag
The chances of having mobile phone signal anywhere in the mountainous areas of the UK will be quite remote. This is why it's really important to plan your hiking route out in advance and to take a physical map with you. Investing in a map protector will mean that you'll be able to attach it to your bag to stop it from blowing away, and the cover will protect it from the rain. Don't rely solely on your phone!
3) Compass
Many smartphones now feature a compass tool, which is great when your phone has signal! Don't risk being caught out and instead take a reliable compass with you. If the wind is strong and it's also raining, you could become disorientated suddenly.
It is important to check the weather forecast for the location of your hike, rather than just the starting spot. By taking a wind meter with you which features both wind and temperature display, you will then be aware of the conditions for your exact location.  It will give you an accurate reading of whether it's too dangerous to carry on with a hike, especially if the path is exposed and steep, such as Helvellyn's Striding Edge. In strong winds, the safest option may be to find an alternative route less exposed and lower down.
 An affordable option is our ClimeMET CM2030 Handheld Wind Meter.  Becky the Traveler put this piece of kit to the test for us in the Peak District last year."As the weather is changing in the UK, it's certainly something that would be very useful on mountain hikes and ridge walks." Read Becky's full review of the CM2030 here.
 5) Hiking poles
Taking either one or two hiking poles with you will support you and keep you balanced when hiking in strong winds. They're also great for stability, especially if you're wearing a large backpack. Many on the market today can even be folded down and attached to hiking backpacks, which is perfect for when they're not needed!
The CM2030 Handheld Wind Meter is available to be purchase here and a separate carry pouch is also available.
Fairfield Horseshoe, The Lake District – Charlotte Warren.
Do you have any advice or experience with hiking in strong winds? We'd love to hear from you!