ClimeMET: Amateur Gardening's Best Buy!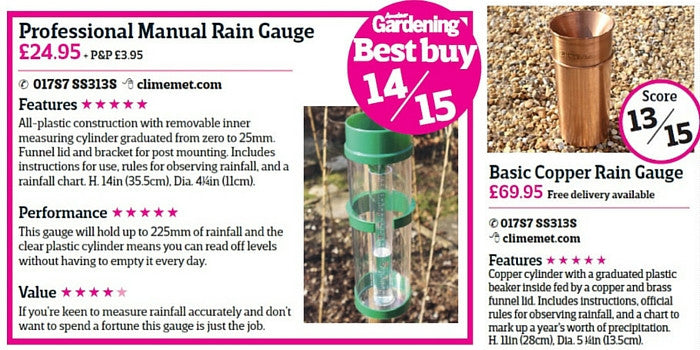 3 minute read
We are delighted to see two of our ClimeMET rain gauges featured in Amateur Gardening's 'Tried & Tested' Rain Gauge feature this month. 
Our CM1016 Professional Manual Rain Gauge was picked as Amateur Gardening's Best buy and received a fantastic score of 14/15: "If you're keen to measure rainfall accurately and don't want to spend a fortune this gauge is just the job." 
Our CM1037 Basic Copper Rain Gauge was described by Consumer Editor Julia Heaton as "A quality rain gauge beautifully made and likely to last a lifetime" and received a great score of 13/15 based on features, performance and value for money.