Fossil Hunting? Check The Weather First!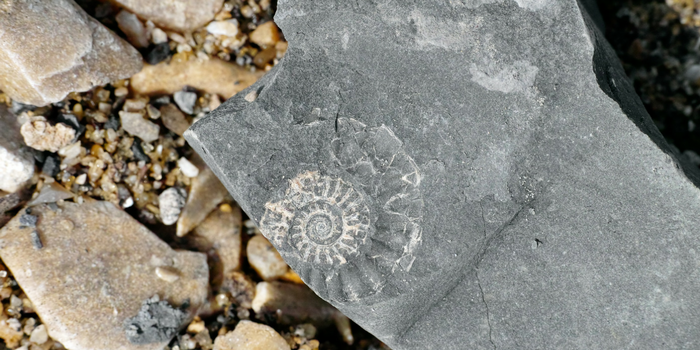 3 minute read
With fossils dating back over 3 billion years, it's hard not to be intrigued by them! Fossil hunting is a wonderful hobby to enjoy with all the family, and now is the perfect time of year to get out there and start exploring.
Be sure to plan your fossil hunting expeditions with the weather in mind, though, as some spots can be particularly tricky to access, or even dangerous in certain weather conditions. Read on to find out which weather parameters you need to check before heading out.
What Is A Fossil?
According to the Oxford English Dictionary, a fossil is described as: "The remains or impression of a prehistoric plant or animal embedded in rock and preserved in petrified form." Essentially it is a snapshot of life from a moment in history, and can give us a fascinating glimpse into the past.
When To Go
You can fossil hunt all year round, but according to Ordnance Survey, November to April is the best time to go: "Over the winter months the beaches are churned up by the rough seas and more fossils are revealed. It is the combination of rough seas and high tides that produce the most fossils."
Where to Go
We're lucky in the UK to have a wealth of fossil hot spots on our doorstep. The Guardian have compiled a list of the top 10 fossil sites in the UK. Below are our favourite 5, along with tips on making sure you pick the right weather conditions for your fossil hunt.
Jurassic Coast, Dorset to East Devon
You certainly won't be bored along the Jurassic coast, with 90 miles of world heritage sites explore. You're likely to find very large ammonites along the foreshore but be sure to consult your ClimeMET CM4305 Tide Clock before you go, as the area gets cut off at high tide.
Robin Hood's Bay, North Yorkshire
Head down to Robin Hood's Bay at Port Mulgrave and you might just find ammonites as well as dinosaur and reptile fossils. Be sure to consult your ClimeMET CM7088 Rain Gauge before heading out, though, as the walk down to the beach can be slippery when wet. This route isn't recommended for children.
Bracklesham Bay, West Sussex
If you're looking for a family day out, what could be better than a large sandy beach with easy access, AND plenty of fossils? Fossils are found here along the sand, and you might even stumble across some sharks' teeth! Visit in the spring as storms expose more fossils, so use your ClimeMET CM9088 Forecast Station and keep an eye on the forecast icons to identify a period of good weather following a stormy spell.
Llantwit Major, Vale of Glamorgan
Vale of Glamorgan is the best location for Jurassic fossils in Wales, and the small coastal town of Llantwit Major is home to Nash Point Lighthouse and St Donat's Castle, as well as scenic cliff walks. You can find corals, giant shells and bones, but be sure to consult your ClimeMET CM3086 Digital Thermometer to find a mild day so that you can make the most of all of the great outdoor activities the town has to offer.
Walton-on-the-Naze, Essex
The base of the cliffs at Walton-on-the-Naze is home to London clay, which is 54 million years old, and Red Crag, which was deposited 51 million years later. In terms of fossils, keep an eye out for some of the largest sharks' teeth in the UK, as well as bird fossils.
While you're there, why not take a look at The Naze Tower which is a Georgian lighthouse dating back to the 18th century. Use our ClimeMET CM4520 Red Lighthouse Tide Clock to check the tides when planning your visit, as the beach is cut off at high tide.
How To Identify Your Fossils
Use a handy fossil identification tool such as The Learning Zone Invertebrate Wheel, or, if you're really stuck, upload a photo of your fossil to the Natural History Museum and a scientist will help you identify it.
Plus, share your fossil finds with us on Twitter or Instagram and we'll repost our favourites.